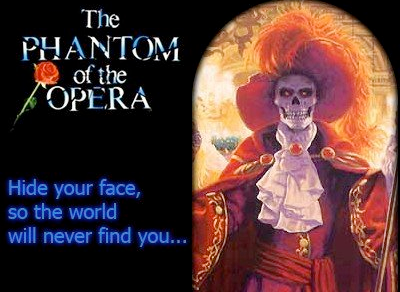 Stamattina ho fatto una spesa folle di cui sono particolarmente orgoglioso!!! Visto che sarò a Londra per il capodanno il 29 sera mi sono regalato un biglietto per il Phantom of the Opera!
Sono già emozionato al solo pensiero! Dopo anni di ascolto, lettura, studio – e trituramento di palle per tutti quelli che mi stanno intorno – potrò finalmente vedere l'originale da un meraviglioso e costosissimo posto in platea!!!!!!!!!!!!!!!
Finalmente dal mio posto del Her Majesty's Theatre mi godrò The Music of the Night, All I Ask of You e soprattutto la mia preferita: The Point of no Return!
Comunicazione a tutti quelli che mi conoscono: preparatevi a sentirmi raccontare ogni singolo dettaglio migliaia di volte! Mwaahahahahaha!!!