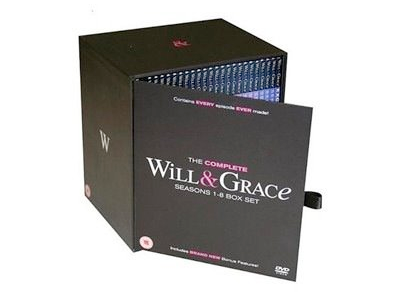 E' quiiiiiiiiii!!!!!!!!!!!!!! Il meraviglioso cofanetto di Will & Grace (o come lo chiamo simpaticamente io Wilelmina e Graziano) giunto volando, o meglio, svolazzando dall'Inghilterra!
Visto che nel nostro paese retrogrado non è neanche arrivata l'ultima serie e preferiscono pubblicare cofanetti con serie TV dell'anteguerra mi sono arrangiato e ora posseggo orgogliosamente ogni singolo episodio in lingua originale.
Per festeggiare metto in questo post alcune geniali definizioni del glossario di W&G! Buon divertimento!
ABS-AND-PECSOLUTELY
without a gay doubt.
BELGIAN WAX, A
a regular waxing job, but it hurts so much that you threat yourself to a waffle afterwards.
BIG GIRL UPSTAIRS, THE
God.
BO-CURIOUS
the state of being potentially interested in getting Botox injections, but unable to admit said interest.
BRUSBAND
derived from both the words "husband" and "bride", one of the grooms at a gay wedding, fulfilling the role of both husband and bride.
COMING OUT-FIT
the apparel one wears for the meal at which he comes out to his mother.
DON QUEERLEONE
the head of the fabled gay mafia.
FLAMING SCHNAPPS ACT OF 1987
the legislation which gave homosexuals the right to drink whatever they want.
GAY CHURCH
a gym.
GAY HIGH HOLY DAY, THE
aka Halloween.
HOMO NOSTRA, THE
another name for the feared gay mafia.
JACKTING
the act of staging a classic play but changing it to include a desired, yet wholly imaginary, homosexual subtext.
JACK-U-CCINO
the coffee drink speciality of the house at New York's Café Jacques.
JAMES AND THE GIANT PEACHES
male genitals.
MANOREXIC
the condition when one cannot bear to eat, due to depression over losing a man.
MULTIPLE SARCASM
a series of bitchy jokes made in a row.
PENELOPE CRUZ, TO
to insinuate one's way into a closed, elite group by starting a relationship with one of its members.
POOP 'N' CRUISE
walking one's dog in order to pick up men.
POOR PEOPLE'S JEWELRY
a gift of flowers.
YENTL BREAKDOWN, A
a fit of nervousness brought on by the prospect of a homosexual male meeting his father for the first time, culminating in the frenzied singing of Barbra Streisand's Papa Can You Hear Me?