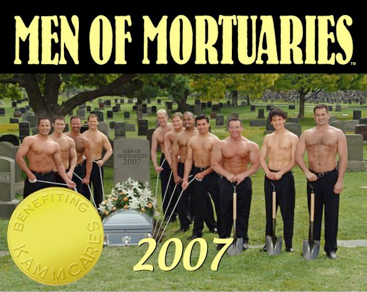 In America un'associazione senza scopo di lucro per la lotta al tumore al seno ha deciso di rivedere in un modo inusuale una classica via per raccogliere fondi.
Come nel film Calendar Girls hanno preso come soggetto qualcosa di inaspettato. Per loro niente signore di una certa età nude ma un gruppo di giovani, aitanti, sexy e muscolosi… becchini! Il calendario si chiama Men of Mortuaries e può essere acquistato a questo link per 15 dollari!
Notevole anche la maglietta che recita lo slogan "you'll just dig'em!!". In inglese to dig significa sia sotterrare (verbo perfetto per un becchino) che apprezzare.
Indubbiamente è un calendario particolare e forse un tantino indelicato però è riuscito nello scopo di attirare l'attenzione e fare beneficenza.
Cercando su internet si possono trovare altri calendari insoliti. In particolare eccone uno: il calendario con le immagini dei bagni esterni alle case… e poi sono i becchini ad essere inusuali, eh?