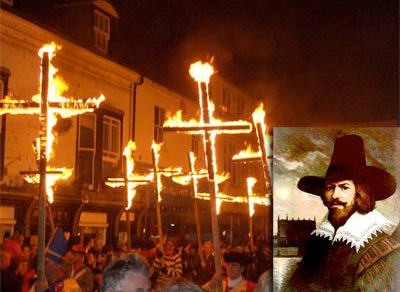 Guy Fawkes, che utilizzava anche lo pseudonimo John Johnson, era membro di un gruppo di cospiratori cattolici inglesi che tentarono di assassinare con un'esplosione il re Giacomo I d'Inghilterra e tutti i membri del Parlamento inglese mentre erano riuniti nella Camera dei Lord per l'apertura delle sessioni parlamentari dell'anno 1605.
Il 5 novembre 1605 il complotto fu scoperto e i barili di polvere da sparo furono disinnescati prima che potessero compiere danni.
Da allora ogni 5 novembre nel Regno Unito e in Nuova Zelanda viene festeggiato il fallimento dell'attentato nella cosiddetta notte di Guy Fawkes nella quale i bambini bruciano su un falò un pupazzetto che simboleggia l'attentatore.
La notte è spesso associata a questa poesia popolare:
Remember, remember the fifth of November,
Gunpowder Treason and Plot,
I see no reason why gunpowder treason
should ever be forgot.
Guy Fawkes, Guy Fawkes,'twas his intent
to blow up the King and the Parliament.
Three score barrels of powder below,
Poor old England to overthrow:
By God's providence he was catch'd
With a dark lantern and burning match.
Holloa boys, holloa boys, make the bells ring.
Holloa boys, holloa boys, God save the King!
Hip hip hoorah!
Gli ultimi versi, anche se parte della poesia originale, normalmente non vengono più recitati a causa dei riferimenti anti cattolici:
A penny loaf to feed the Pope.
A farthing o' cheese to choke him.
A pint of beer to rinse it down.
A faggot of sticks to burn him.
Burn him in a tub of tar.
Burn him like a blazing star.
Burn his body from his head.
Then we'll say ol' Pope is dead.
Hip hip hoorah!
Hip hip hoorah!