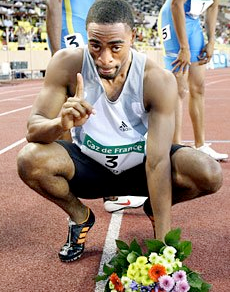 Leggendo i giornali in lingua inglese di qualche giorno fa si poteva pensare che l'omosessualità stesse diventando una cosa da campioni…
Ecco alcuni esempi:
– American Gay wins 100 metres at track worlds
– Gay cements status as world's fastest man with help from mom
– Gay destroys Powell to win world 100m title
– Gay wins battle of the sprint kings
Cos'é successo? Il mondo ha cominciato a sniffare cocaina gaia?
In realtà il merito va semplicemente a Tyson Gay, l'atleta americano vincitore della medagli d'oro dei 100 metri ai mondiali di atletica di Osaka… vabbé, ci abbiamo provato.