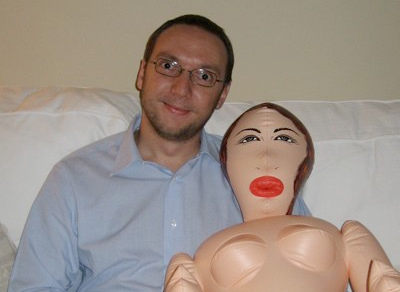 All'addio al celibato gli amici di mio fratello gli hanno regalato Jasmine: la bambola gonfiabile!!!
Le associazioni di consumatori dovrebbero far partire una lotta contro la pubblicità ingannevole di questo prodotto. Sulla confezione c'é la foto di una gnoccolona super tettona e dentro… beh… è una cosa inguardabile!!!
Ma l'inganno non si limita alla foto ma, soprattutto, al capolavoro che c'é scritto sopra (errori compresi):
SEX TEEN
LOVE DOLL
This sexy Girl will show you all its' sexual mysteries!
This incredibly authentic doll loves it any way you do and is sure to become your favorite companion. Her hungry,open mouth and sweet,thigr pussy is always ready-take her all the way…every way you can!
Life Size
Soft Flesh – Like Skin
Ripe Young Breasts
Curvaciuos Hips and Legs
Loving Mouth
Luscious Vagina
Una sola cosa forse la rende degna di nota: se le strizzi il braccio destro finge l'orgasmo!!! Certo, è un rumore peggio di quello delle tartarughe quando copulano, ma talmente trash che non se ne può fare a meno!
Nell'immagine qua sotto il confronto… quale mai sarà la scatola e quale la bambola?