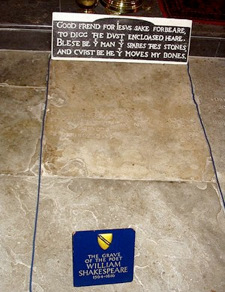 A Stratford-upon-Avon sono cominciati i lavori di ristrutturazione della Holy Trinity Church.
All'intero della chiesa c'è anche la tomba di William Shakespeare famosa per la sua iscrizione/maledizione:
GOOD FREND FOR JESUS SAKE FORBEARE TO
DIGG THE DUST ENCLOASED HEARE.
BLEST BE YE MAN YT SPARES THES STONES AND
CURST BE HE YT MOVES MY BONES
Caro amico per amore di Gesù
rinuncia a scavare la polvere che qui è racchiusa.
Benedetto colui che risparmia questa pietre
e maledetto chi muoverà le mie ossa.
Anche la stessa pietra tombale dovrà essere sistemata perché sta cominciando a sgretolarsi e i ristrutturatori hanno paura di incorrere nella maledizione del Bardo… a questo propositò però hanno deciso di proteggere la pietra con una sorta di stucco trasparente senza doverla spostare.
Riusciranno quindi a svolgere serenamente i lavori? Ma soprattutto, chissà come sarebbe una maledizione da Shakespeare: tre streghe che continuano a profetizzare? Folletti e elfi che litigano? Falstaff che ti svuota la cantina? O, peggio di tutto, indossare le calze di Malvolio dalla Dodicesima Notte?
Il vicario della chiesa ha comunque dichiarato che siccome stanno cercando di proteggere la tomba al massimo incapperanno in una benedizione e non in una maledizione… se ne è sicuro lui…