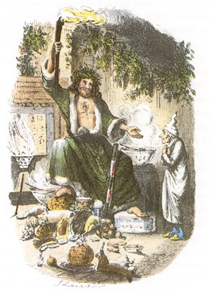 A poco più di un mese dal Natale comincio a sentire il richiamo dell'abete, delle carole natalizie, della neve e del caminetto.
Di solito comincio ufficialmente il conto alla rovescia dal 1° dicembre, neanche fossi un calendario dell'avvento vivente! Oggi però ha nevicato e appena arrivato a casa ho deciso di caricare la versione natalizia del mio sito ed entrare nello spirito della festa.
Negli anni ho recuperato ogni tipo di cianfrusaglia natalizia: decorazioni, palline per l'albero, nastri… ma soprattutto libri e dvd!
Tutto cominciò per colpa di Dickens. Qualcuno ha detto che Dickens abbia salvato il Natale restituendogli una dimensione non necessariamente religiosa. Lo ha fatto con una delle storie più riutilizzate di sempre: A Christmas Carol. La storia di Scrooge e dei fantasmi dei natali passati, presenti e futuri ricompaiono ovunque: dal classico Canto di Natale di Topolino a Festa in Casa Muppet fino ad una improbabile versione nella Signora del West!
Se non mi sbaglio ho 5 versioni di questo libro. Sia in italiano che in inglese, da solo e all'interno dei Racconti di Natale sempre di Dickens.
Restando nella letteratura c'è T'was the Night Before Christmas, How the Grinch Stole Christmas e lo Schiaccianoci di Hoffman. Quest'ultimo è un libro delizioso, affascinante e da leggere tra le righe.
Al cinema invece non si possono non ricordare i due Mamma Ho Perso l'Aereo: soprattutto il primo è meraviglioso! Altri film a cui non posso rinunciare sono Mrs. Santa Claus con la mia adorata Angela Lansbury, The Santa Clause, Nightmare Before Christmas e Love Actually.
Ho anche un po' compilation natalizie comprate o create negli anni. A parte i classici canti del Mormon Tabernacle Choir la mia canzone preferita per le feste direi proprio che è Somewhere in my Memory cantata da Bette Midler nella colonna sonora di Home Alone.
Detto questo non resta che portarsi avanti dicendo…
Merry Christmas to all
and to all a goodnight