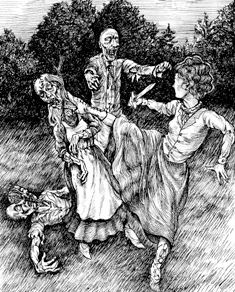 Cosa succederebbe se Elizabeth Bennet, tra un ballo e un altro, dovesse proteggersi da orde di… zombie?
L'autore Seth Grahame-Smith lo ha immaginato ed ecco il risultato: Pride and Prejudice and Zombies!
In pratica si tratta del romanzo di Jane Austen con riferimenti a degli innominabili non morti. Il risultato pare sia spassoso e, soprattutto, un modo per avvicinare un nuovo pubblico alla romanziera inglese. L'85% del libro è rimasto invariato e il resto ha quel gusto splatter che Quentin Tarantino adorerebbe.
Dal sito della casa editrice è possibile scaricare i primi tre capitoli e sghignazzare quando i sonnolenti protagonisti passano senza problemi da un ballo, ad un attacco che uccide alcuni invitati, alla seconda parte del ballo!
Ed ecco come si trasforma l'incipit del romanzo:
IT IS A TRUTH universally acknowledged that a zombie in possession of brains must be in want of more brains. Never was this truth more plain than during the recent attacks at Netherfield Park, in which a household of eighteen was slaughtered and consumed by a horde of the living dead.
Vai Lizzy! Uccidili tutti!!!
Leggi i primi tre capitoli di Pride & Prejudice & Zombies