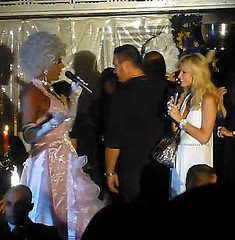 Domenica scorsa l'ereditiera Paris Hilton era ospite del Borgo alla serata Join The Gap.
Il suo comportamento, e quello del suo entourage, hanno alzato un gran polverone e sono un po' di giorni che non si parla d'altro! Siccome ritenevo la notizia interessante l'ho mandata a Marc e Fausto di Feast of Fun che sono sempre alla ricerca di curiosità LGBT.
Nel giro di qualche ora, gentilissimi come sempre, mi hanno risposto dicendo di aver inserito la notizia nella loro rubrica del sito Chicago Now e che probabilmente ne avrebbero parlato nel loro prossimo show. E così è stato! Oggi ho scaricato l'ultimo episodio del loro podcast ed eccomi presente nella scaletta!
Ho fatto un breve editing dell'episodio così che possiate sentire ciò che hanno detto, consiglio comunque a tutti di abbonarsi via iTunes al loro show perchè sono divertentissimi e riescono a intervistare grandi personalità del mondo gay!