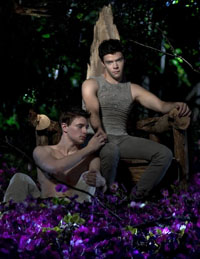 My ear should catch your voice, my eye your eye,
My tongue should catch your tongue's sweet melody.
Were the world mine.
Questo è un passaggio da A Midsummer Night's Dream di Shakespeare che è diventato il punto centrale di un film intitolato, appunto, Were The World Mine.
Il protagonista di questo film si chiama Timothy ed è un ragazzo omosessuale che frequenta, non senza problemi di bullismo, una high school americana. La sua insegnante di inglese decide di mettere in scena Sogno di una Notte di Mezza Estate e, essendo una scuola maschile, anche i ruoli femminili saranno interpretati da ragazzi: proprio come ai tempi di Shakespeare.
Superate le classiche lamentele del preside e dell'allenatore della squadra di Rugby, le prove cominciano e il ruolo di Puck viene assegnato a Timothy.
Una sera mentre ripassa la sua parte su una copia del Sogno prestatagli dall'insegnante, Timothy trova magicamente il segreto di come distillare il filtro d'amore protagonista della commedia:
Cupid's Love Juice
Secure upon-sat stones of promontory,
Spark'd essence of the madly shooting stars,
One drop or two of anything wat'ry,
Some semblance of a milk-white western flower.
Fulfill a pot of purely mineral with
Ingredients which you've gathered carefully.
Upon said bowl, bestow harmonious breath
Til thou remember'st pure whose love you seek.
Allow this precious time to meditate;
Their quenched thirst your just deserved prize!
United they conspire to charm your mate
With purple liquor destined for Love's eyes.
Now with deft and musical note, rejoice,
To give your deepest love-desire strong voice.
Creata la pozione, comincia il divertimento. Il filtro va spruzzato negli occhi chiusi di un'altra persona e quando questa si sveglierà, si innamorerà di chi avrà davanti.
Timothy comincia facendo innamorare di sè Jon, uno dei giocatori di rugby e, subito dopo, bagna tutti gli altri del team facendoli così spasimare l'uno per l'altro.
Ancora non contento, spruzza con la magica pozione quasi tutto il paesino, che si riempie così di coppie gay.
Arriva però il momento di rimettere le cose a posto e, con l'aiuto dell'insegnante di inglese, una pioggia purificatrice durante la rappresentazione a scuola del Sogno cancella gli effetti della pozione di Cupido.
Il film accompagna il protagonista attraverso la sua crescita personale: dalla realizzazione dei suoi desideri, con un trucco, alla rinuncia degli stessi, dall'amore ottenuto facilmente a… sopresa!
Molto bella anche la figura della madre di Timothy che impara ad accettare l'omosessualità del figlio un passo alla volta.
Il film non è un capolavoro di cinematografia ma ha molti spunti interessanti. L'insegnante di inglese è praticamente Puck che torna a divertirsi coi mortali, portando con sé un fascino un po' inquietante. Oberon e Titania questa volta non si interessano di cosa sta succedendo, dopotutto oramai hanno fatto la pace.
Ma forse è stato tutto un sogno…