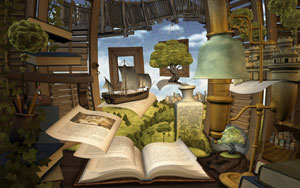 Sono tantissimi i libri che leggo e molti quelli che mi piacciono ma solo pochi hanno un posto speciale nel mio cuore.
Quando penso a questi libri speciali mi verrebbe voglia di perderne memoria così da rivivere l'emozione della prima lettura.
Quando ho letto il primo libro di Jasper Fforde mi è nato un nuovo desiderio: poter fare come la protagonista e avere la capacità di entrare nei libri!
Non sarebbe meraviglioso immergersi nell'atmosfera dei grandi romanzi inglesi dell'800, vivere l'avventura a bordo del Nautilus o viaggiare nella Terra di Mezzo?
Se davvero fosse possibile mi fionderei in Orgoglio e Pregiudizio per seguire Elizabeth e Darcy e la loro travagliata storia d'amore.
E' incredibile come i libri di Jane Austen siano così belli: alla fine per la maggior parte del tempo non fanno che decrivere la vita quotidiana di persone che chiacchierano, lavorano a maglia, dipingono e scrivono interminabili lettere… eppure in tutto questo civettare si viene rapiti dalla storia e ogni pagina diventa carica di emozioni e colpi di scena.
Jane Austen ha uno stile molto ironico e critico verso alcuni personaggi, ma il tutto con una delicatezza che non offende e che mantiene il sorriso sul volto del lettore.
I protagonisti maschili hanno poi un fascino da principe azzurro ma senza la mielosità e la perfezione ad ogni costo del personaggio delle favole. Azzarderei anche che hanno una nota sensuale nonostante il fatto che il sesso è assolutamente bandito dai suoi romanzi! In realtà a volte sembra spaventata dalla troppa avvenenza di un uomo, soprattutto se nasconde un carattere non completamente benevolo, come nel caso di Wickham o Willoughby.
Proprio oggi ho scoperto che Jasper Fforde non è stato l'unico ad ipotizzare di viaggiare all'interno dei libri, lo ha fatto anche un'autrice di libri simil harmony: Gwyn Cready!
Nel suo Seducing Mr. Darcy la protagonista ha un incontro intimo con Darcy e da lì iniziano i problemi!!!
Ma ecco la quarta di copertina, che voglia che viene di leggerlo!!!
In the second hilarious and sexy novel from author Gwyn Cready, a divorcée suffering from "carnal deprivation" has a racy one-night stand with one of literature's most irresistible heroes — and learns that you really can't judge a book by its cover.
Mr. Darcy just isn't Flip Allison's style. She prefers novels that include hot sex on the bathroom sink to the mannerly high-tension longing of Jane Austen's Pride and Prejudice. That is, until she pays a visit to Madame K, who promises a therapeutic massage with an opportunity to "Imagine Yourself in Your Favorite Book." Somehow on the way to a sizzling sink top session with a Venetian Adonis, Flip lands right in the middle of Regency England–and dangerously close to handsome Mr. Darcy. So close, in fact, that she discovers a side of him even Jane Austen couldn't have imagined.
Waking from her massage, Flip is on top of the world and ready for her upcoming book club — that is, until she notices a new scene in which Darcy and spunky heroine Lizzy Bennet are arguing over…Flip Allison? Her rapturous liaison with Darcy has had disastrous consequences for Austen's characters — not to mention millions of Pride and Prejudice fans! Flip has twenty-four hours to put the story back on course, and Magnus Knightley, a sexy but imperious scholar whose brooding good looks and infuriating arrogance are decidedly Darcy-like, is the only one who can help. The only problem is, Flip can't keep her hands off him, either….