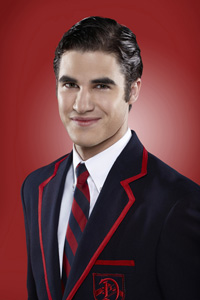 Questa è una di quelle notizie che fanno commuovere e al tempo stesso è triste che nel 2011 siamo ancora qua a discuterne mentre dovremmo aver raggiunto uno stato di laicità e apertura tale da non stupirci più nell'incontrare persone intelligenti.
La madre di un bambino di 6 anni ha postato questa entry nel suo blog personale (a questo link è disponibile una traduzione in italiano):
Mommy, they are just like me
My oldest son is six years old and in love for the first time. He is in love with Blaine from Glee.
For those who don't know Blaine is a boy… a gay boy, the boyfriend of one of the main characters, Kurt.
This isn't a he thinks Blaine is really cool kind of love. It is a mooning at a picture of Blaine's face for a half hour followed by a wistful He's so pretty kind of love.
He loves the episode where two boys kiss. My son will call people in from other parts of the house to make sure they don't miss his favorite part. He's been known to rewind it and watch it over again… and force other to, as well, if he doesn't think people have been paying enough attention.
This infatuation doesn't bother me or his father. We live in a very hip-liberal neighborhood, many of our friends are gay, and idea of having a gay son isn't something that bothers either of us. Our son is going to be who he is, and it is our job to love him. End of story.
He is also six. Six year olds get obsessed with all kinds of things. This might not mean anything at all. We always joke that he's either gay, or we have the best blackmail material in the history of mankind when he's a 16 year old straight boy. (Take that naked bath time pictures!)
Then the other day we were traveling across the state listening to the Warblers album (of course), and in the middle of Candles, my son pipes up from the back seat.
"Mommy, Kurt and Blaine are boyfriends."
"Yes, they are," I affirm.
"They don't like kissing girls. They just kiss boys."
"That's true."
"Mommy, they are just like me."
"That's great, baby. You know I love you no matter what?"
"I know…" I could hear him rolling his eyes at me.
When we got home I recapped this conversation to his Dad, and we stood simply looking into each other's eyes for a moment. Then we smiled.
"So if at 16 he wants to make a big announcement at the dinner table, we can say 'You told us when you were six. Pass the carrots' and he'll be disappointed we stole his big dramatic moment," my husband says with a laugh and hugs me.
Only time will tell if my son is gay, but if he is I am glad he's mine. I am glad he has been born into our family. A family full of people who will love and accept him. People who will never want him to change. With parents who will look forward to dancing at his wedding.
And I have to admit, Blaine would be a really cute son-in-law.
La cosa che più mi colpisce è la straordinaria naturalezza della madre. Traspare una vera tranquillità e non un finto va tutto bene perché devo essere una madre moderna, e nulla del mio bambino mi può sconvolgere etc. etc.
E' vero che questo bambino è nato in un ambiente favorevole, ma quello che gli omofobi devono capire è che questo è il solo modo per crescere un figlio senza sensi di colpa o imbarazzi. L'unico modo per farlo crescere felice è accettare la sua eventuale omosessualità, punto e basta, non c'è spazio per altre ipotesi.
Trovo molto triste che l'ottusità possa portare a far deliberatamente male ai propri figli. Per combattere l'ottusità ci vuole una società che metta all'angolo chi ancora la pensa in maniera obsoleta e questo cambiamento deve partire da noi, perché se aspettiamo la TV e i politici rischiamo di non cambiare mai.
Ognuno di noi è un'entità politica in grado di apportare il proprio contributo e, con un po' di fortuna, a plasmare il mondo in cui viviamo. Ogni piccolo contributo ha valore, anche condividere questa storia di straordinaria normalità (l'ossimoro non è un caso).