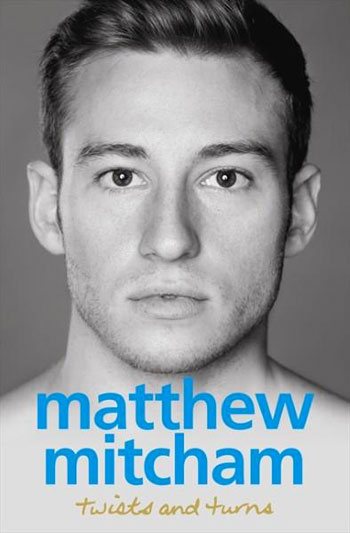 Sabato mentre ero sul Malpensa Express di ritorno da Hong Kong ho finito l'autobiografia di Matthew Mitcham: Twists and Turns. Era la prima volta che leggevo un'autobiografia ed è stata una lettura molto interessante.
Non ho un metro di paragone in questo genere letterario ma mi ha colpito moltissimo la sincerità che trasuda da tutto il libro. Temevo che la storia di una persona così giovane potesse essere una lista di vittorie e soddisfazioni e invece è un resoconto dei momenti positivi così come di quelli negativi. Matthew Mitcham scende nei dettagli degli episodi più importanti ma anche delle emozioni e delle sofferenze che lo hanno accompagnato dalla giovinezza fino alle Olimpiadi di London 2012.
Quando parla di aspetti negativi non fa riferimento alla tensione della gara o a semplici litigi. Parla della depressione che lo ha spinto a lasciare i tuffi e a diventare dipendente da alcool e droghe. Sono argomenti difficili e l'unico modo per parlarne è essere completamente sinceri. Continuo a ripetere la parola sincerità perché è veramente la parola chiave del libro e la ragione per cui è così speciale. Lo stesso autore in una battuta ne sottolinea la presenza in ogni pagina.
A few years ago, after some traumatic events brought me undone, I concluded that honesty in every aspect of my life is the only policy, so I don't lie anymore. Writing this book would have been much easier had I never made such a decision.
Senza voler essere un esperto, Matthew Mitcham parla di molti argomenti che riguardano tutte le persone che crescono e in particolare le persone omosessuali. Il libro è pieno di spunti di riflessione interessanti e molti passaggi mi hanno colpito, anche profondamente. La cosa bella è che questi spunti non arrivano dall'alto di un pulpito, ma da qualcuno che ha vissuto queste situazioni sulla propria pelle ed ha trovato un modo per uscirne. Non è detto che questo modo possa andare bene per tutti ma fermarsi e ragionarci farebbe bene a chiunque.
Di seguito alcuni di questi passaggi che non vogliono assolutamente riassumere il libro ma fare un po' da aperitivo.
Essere omosessuale e dichiararsi tale
I denied it for a while but eventually I just began to accept it. I started admitting I was gay, because, I reasoned, if you say, 'Yes, I am a fag, what's the big deal?' then it'll deprive the finger pointers of their fun. It's no fun calling a fag a fag when he happily calls himself one. So at school I didn't get teased about being gay from Year 10 onwards.
Presentare il suo fidanzato – Lachlan – in famiglia
Even after six years, I still have a little trepidation about introducing him to the rest of the family, even though they've all expressed how eager they are to meet him. When I try to pinpoint the source of my apprehension, I can only put it down to the subliminal message that I, and no doubt countless other young LGBT kids, picked up from society: that gay is not as good as straight. It's quite terrifying to realize that, despite all the evidence to invalidate our concerns, this subliminal message we take on as children gets so deeply rooted that it impacts what we believe about ourselves and how we live our lives for years and years.
Essere se stessi
I had been a mass of insecurities. I had erected barriers, and people didn't know how to navigate the terrain of me, so they steered clear. Now that I was myself, I attracted good people. My life was so much better now.
Essere attivisti nella vita di tutti i giorni
I believe that the most positive thing I can do for gay people is not to be a hardline, humorless activist, but simply to live my life as a decent, caring and responsible human being first, and sportsman second. The fact that I'm gay is incidental.
Preoccuparsi delle cose su cui abbiamo potere
I began chanting the Serenity Prayer in my head before a dive as a relaxation tool. I had learned it in rehab, and they say it at the end of every Narcotics Anonymous meeting. The prayer eased the pressure too: 'God, give me the serenity to accept the things I cannot change; courage to change the things I can; and wisdom to know the difference'. What this meant to me in a diving context is that it would be the London Olympics judges' job, not mine, to compare the divers' performances and decide who had done the best. There was no point in worrying about my rivals, just the things I could control. I couldn't control how Tom Daley or Qiu Bo would dive, whether they dived superbly or muffed it. I could control my own practice, my own choice of dive, my own fitness, my own relaxed frame of mind, my own performance.
Vincite e sconfitte
My training before Beijing had been entirely physical. I had consciously avoided doing any psychology, as I didn't want to get into all that messy stuff in case it affected me in competition. But because injuries had interrupted my physical training in the lead-up to London, my hardest training was psychological. I developed the mental and emotional maturity to come out of the London Olympics with a better and more positive attitude towards not doing well in competition. Winning doesn't necessarily mean happiness, and failure can mean growth. When things don't work out in life, it can actually build the strength of your character. And if you celebrate all of your achievements, big and small, you'll always be a winner.
Depressione
Now I know that no one should ever feel that they need to have a reason for being depressed. Some depression arises from trauma. Some people are physiologically predisposed to depression and can be equally depressed even when the world is at their feet.
Chiedere aiuto
I can't stress enough the benefit of reaching out. A problem shared is a problem halved. If I had known then that you can't do it by yourself and that it is actually a sign of strength to ask for help, I would have done it. As a teenager I thought I knew everything, and apparently I didn't.
Mentre leggevo Twists and Turns ho riso molto e pianto altrettanto. A pagina 2 (non sto scherzando) ero già un procione e fino alla fine la lacrimuccia è rimasta in agguato. E' vero che commuovo facilmente ma – ripeto – questo libro mi ha proprio colpito, per la sua genuinità e per la sua dolcezza.
Non so se verrà mai tradotto in italiano ma in ogni caso lo consiglio a tutti: gay o etero, sportivi o poltroni.
Per concludere ecco la foto della mia copia autografata acquistata dal Bookshop Durlinghurst!!!