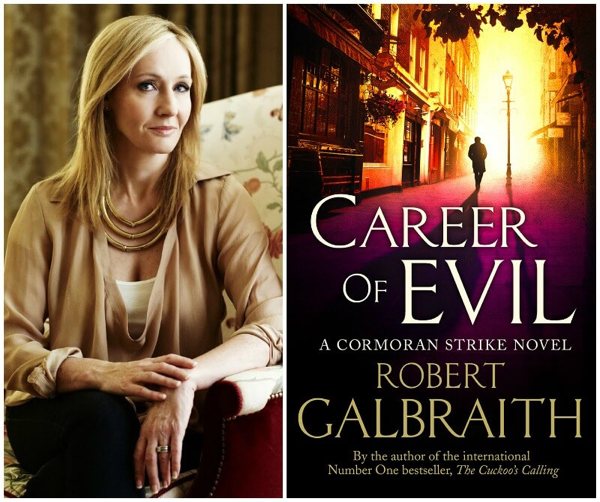 Dopo poco più di un anno dallo scorso libro ho comprato e divorato l'ultima fatica di Robert Galbraith: Career of Evil. Dopo aver parlato di The Cuckoo's Calling e The Silkworm ecco le mie impressioni sul terzo capitolo dedicato all'investigatore privato Cormoran Strike.
Ancora una volta Robert Galbraith (AKA J.K. Rowling) ci immerge nell'atmosfera di Londra accompagnandoci in un mondo di mistero e omicidi. Ecco una breve presentazione:
When a mysterious package is delivered to Robin Ellacott, she is horrified to discover that it contains a woman's severed leg. Her boss, private detective Cormoran Strike, is less surprised but no less alarmed. There are four people from his past who he thinks could be responsible- and Strike knows that any one of them is capable of sustained and unspeakable brutality.
With the police focusing on the one suspect Strike is increasingly sure is not the perpetrator, he and Robin take matters into their own hands, and delve into the dark and twisted worlds of the other three men. But as more horrendous acts occur, time is running out for the two of them…
La storia riprende pochi mesi dopo la fine dell'ultimo libro e oltre ad un nuovo caso ci racconta anche delle vite di Cormoran Strike e Robin Ellacott. Senza raccontare nulla della trama posso dire che scopriremo cose importanti del passato di entrambi e la cosa sarà particolarmente interessante per quanto riguarda Robin.
Ancora una volta J.K. Rowling è una maestra nel tessere una tela che si allunga attraverso i libri. Alcuni elementi letti nei precedenti capitoli avranno improvvisamente molto più senso rendendo Robin un personaggio sempre più tridimensionale.
Per quanto concerne il mistero da risolvere stiamo seguendo le orme del precedente capitolo: meno Agatha Christie e un orizzonte più ampio. Lo stile investigativo di Cormoran rimane lo stesso (ragionamento prima di tutto e azione quanto è strettamente necessario) ma ci stiamo allontanando sempre di più dai misteri in ambiente chiuso. In più questa volta i due protagonisti dovranno affrontare un serial killer.
Se dal punto di vista del caso da risolvere il primo libro resta il mio preferito lo sviluppo dei due personaggi principali rende questo capitolo uno dei migliori. La storia è ben bilanciata tra questi due aspetti e il conoscere più profondamente Cormoran e Robin ha un effetto calamita sul lettore.
Anche questa volta la mia adorata città di Londra è tra gli indiscussi protagonisti. La sua atmosfera luccicante ma anche misteriosa è un elemento portante e imprescindibile.
Questa volta nessun spoiler, è un libro giallo ed è sempre meglio così. Non mi resta quindi che augurare buona lettura a tutti quanti si vogliano gettare in questo mistero.