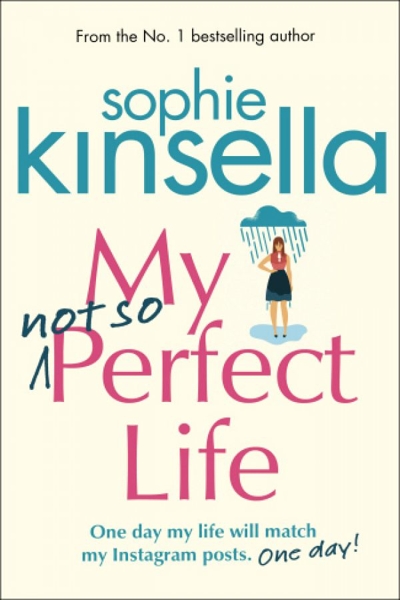 Dopo aver dedicato gli ultimi mesi a rileggere The Lord of the Rings (capolavoroooooooo) sono tornato con i piedi per terra con l'ultimo romanzo di Sophie Kinsella: My Not So Perfect Life.
Ecco la sinossi:
Katie Brenner has the perfect life: a flat in London, a glamorous job, and a super-cool Instagram feed.

Ok, so the real truth is that she rents a tiny room with no space for a wardrobe, has a hideous commute to a lowly admin job, and the life she shares on Instagram isn't really hers.

But one day her dreams are bound to come true, aren't they?

Until her not-so perfect life comes crashing down when her mega-successful boss Demeter gives her the sack. All Katie's hopes are shattered. She has to move home to Somerset, where she helps her dad with his new glamping business.

Then Demeter and her family book in for a holiday, and Katie sees her chance. But should she get revenge on the woman who ruined her dreams? Or try to get her job back? Does Demeter – the woman with everything – have such an idyllic life herself? Maybe they have more in common than it seems.

And what's wrong with not-so-perfect, anyway?

The grass is always greener… with the right filter.
Come sempre le sinossi dei libri della Kinsella sono piuttosto misere e servono giusto per far comprare i libri a qualche sciura diretta sotto l'ombrellone. Fortunatamente però i suoi romanzi regalano sempre delle sorprese e talvolta anche molto positive.
Questa sua ultima fatica si posiziona sicuramente tra quelle più riuscite. A differenza della serie (oramai trita e ritrita) di I Love Shopping i libri autonomi riescono a raccontare qualche aspetto nuovo attraverso personaggi interessanti e divertenti.
Questa volta è la coprotagonista a raccontarci un aspetto al femminile che ancora non avevamo conosciuto. La temuta Demeter è infatti il personaggio più tridimensionale di tutti e quello che ci regala le maggiori emozioni, se non altro per essere il vortice che smuove tutto il resto.
Katie è la perfetta guida in prima persona della storia e attraverso i suoi occhi veniamo attratti da Demeter.
Prima di parlare di un altro personaggio dobbiamo metterci al riparo dagli spoilers.
Spoilers
Come tutti i libri di Sophie Kinsella ci deve anche essere un interesse romantico. In questo caso si chiama Alex ed è un giovane e affascinante manager dell'agenzia dove lavora Katie.
Temo che l'autrice abbia perso un'occasione per allontanarsi dal tipico cliché della storia d'amore a tutti i costi. L'errore lo si nota ancora di più proprio perché rispetto all'evoluzione di Demeter questo aspetto della storia è un po' fragile.
Entriamo un attimo nel dettaglio: Katie si innamora di Alex, viene licenziata e lo perde di vista, si ritrovano nella fattoria dei suoi, scoprono (più volte) una forte intesa sessuale, lui decide di andare a New York in cerca della sue radici e lei resta in Inghilterra con un palmo di mano.
Se tutto di fosse fermato qua mi sarei definito soddisfatto e invece ci vuole il colpo di scena… lui riappare e dichiara che l'unico posto dove può trovare se stesso è dove c'è lei. Tutto molto romantico, per carità, ma forse è tempo di una protagonista più emancipata, no?
Il libro è perfetto per la stagione estiva in arrivo: leggero, divertente e con la giusta quantità di emozioni. Non raggiunge il livello del meraviglioso Finding Audrey ma è una spanna avanti di I Love Shopping.