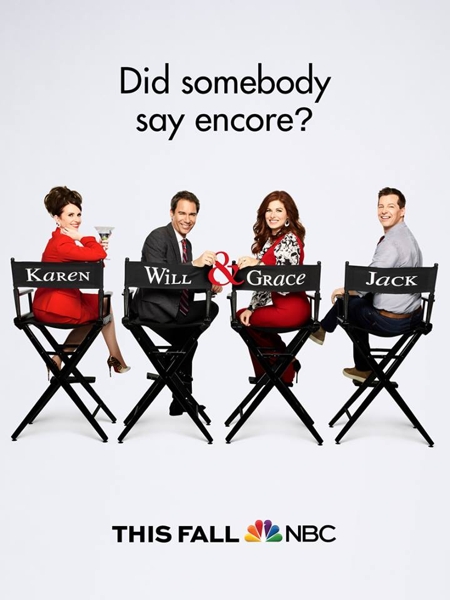 Dopo il delizioso mini-episodio dello scorso anno le voci su un ritorno della leggendaria serie TV Will & Grace si sono ricorse in lungo e in largo. Qualche settimana fa la conferma e ieri è anche arrivato il primo trailer della nuova stagione!
Più che un trailer è un vero e proprio regalo per i fan in formato musical. E se già non fosse stato abbastanza gay le note sono quelle di As If We Never Said Goodbye da Sunset Boulevard di Andrew Lloyd Webber. Praticamente siamo a rischio overdose arcobaleno!
Ecco il testo della loro versione:
Grace
I don't know why I'm frightened
I know my way 'round here
The brooding guy, the drunk who's bi
The tightly wound queer
Will
Yes, a world to rediscover
In our sitcom-sized apartment
We could never afford
Jack
Anonymous liaisons
Will tall guys and with shorties
Still need that thrill, and one blue pill
'Cause now I'm in my 40s
Karen
Still love our booze and codeine pairing
And I still hate what she's wearing
Why everything's as if we never said goodbye
Grace
I don't want to be alone
That's all in the past
This world's waited long enough
I've come home at last!
Will
We've come home at last!
Jack
We've come homo at last!
Together
And this time will be bigger
And brighter than we knew it
So watch us fly
We all know we can do it
We'll have must-see prime-time madness
"This Is Us" should be our lead-in
Yes, everything's as if we never said goodbye
Yes, everything's as if we never said goodbye
Bisognerà aspettare fino all'autunno per i nuovi episodi. Sarà interessante vederli a che fare con un mondo più moderno (Jack alle prese con Grinder???) e vedendo questi pochi minuti possiamo tranquillizzarci: la loro straordinaria alchimia è ancora forte!
19 anni fa è stata la prima serie televisiva con protagonisti gay. Ci hanno raccontato un mondo di emotività omosessuale che molti etero non conoscevano ed oggi si ritrovano in un'America che cerca di distruggere i loro diritti.
Sarà certamente una serie dai risvolti politici ma sempre con un approccio divertente e canzonatorio. Cari ragazzi, bentornati!!!