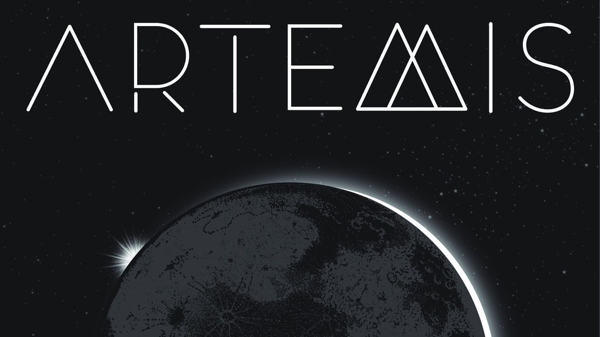 Ieri ho finito di leggere l'ultimo romanzo di Andy Weir: Artemis. Dopo il grandissimo successo di The Martian l'autore di fantascienza ha deciso di spostare la sua attenzione su un corpo celeste più vicino: la Luna.
Ecco una breve presentazione:
Jazz Bashara is a criminal.

Well, sort of. Life on Artemis, the first and only city on the moon, is tough if you're not a rich tourist or an eccentric billionaire. So smuggling in the occasional harmless bit of contraband barely counts, right? Not when you've got debts to pay and your job as a porter barely covers the rent.

Everything changes when Jazz sees the chance to commit the perfect crime, with a reward too lucrative to turn down. But pulling off the impossible is just the start of her problems, as she learns that she's stepped square into a conspiracy for control of Artemis itself—and that now, her only chance at survival lies in a gambit even riskier than the first.
Qualche giorno prima di iniziare la lettura ho ascoltato una puntata di Mashreads dedicata a questo romanzo e una delle domande fatta ad Andy Weir è stata: quanta scienza c'é in questo libro?
Dopo lo straordinario viaggio di The Martian – con il suo mix tra sagacia e tecnologia – avevo paura di rimanere deluso. Posso dire che anche se non bello come il primo libro anche questo Artemis regala sorrisi e una bella dose di informazioni!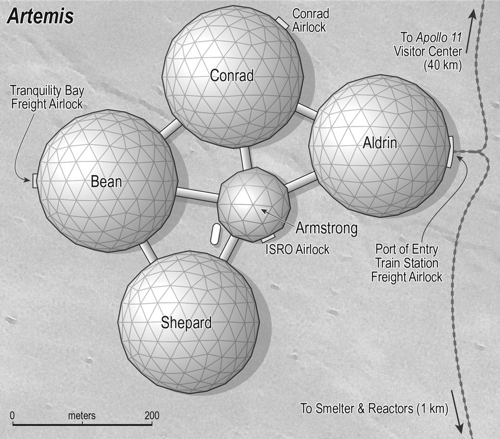 Per prima cosa l'autore ha scritto un saggio dove delinea la tecnologia e le basi economiche per una città sulla Luna. Secondo Andy Weir una base lunare trarrà ricchezza principalmente dal turismo e così ha iniziato a ipotizzare come gli abitanti di Artemis avrebbero interagito coi turisti e quali lavori avrebbero svolto. Molto interessanti anche le ripercussioni giudiziarie di un avamposto lunare con 2000 abitanti, un solo sceriffo e nessun giudice.
Tutto questo viene usato come base per il romanzo ma non necessariamente discusso se non negli aspetti più direttamente legati all'azione. Troppo poco scientifico allora? Diciamo che potrebbe fare un po' di più ma se si fosse spinto troppo nei dettagli avrebbe fortemente rallentato il ritmo incalzante del romanzo.
In The Martian quasi tutta la storia viene raccontata attraverso post sul diario di bordo della missione marziana. Sappiamo che Mark Watney è ancora vivo perché sta riportando accadimenti successi poco prima e nel suo monologo scritto c'é tutto il tempo per elucubrazioni e valutazioni.
Per Jazz invece i tempi sono molto tirati così ha modo di spiegare con precisione solo quanto strettamente necessario lasciando il resto sullo sfondo. Certo, uno sfondo molto preciso e ragionato.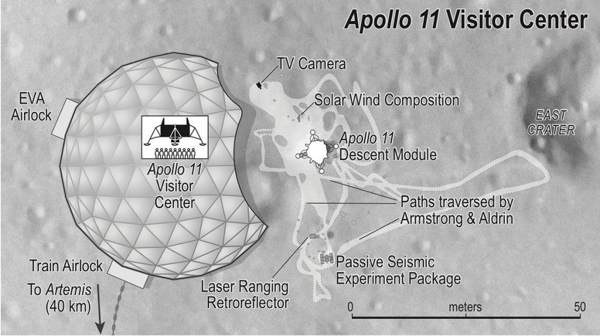 Viene quindi da chiedersi se l'aspetto avventuroso colmi la piccola mancanza scientifica. Secondo me sì: la storia è ben strutturata, i personaggi interessanti, i colpi di scena non mancano, cosa si può desiderare di più? Ebbene il punto debole di Artemis è il finale. La parte di intrigo interplanetario è ben conclusa ma quella personale di Jazz è un po' lasciata andare. Non è incoerente ma troppo rapida, come se l'autore sapesse dove volesse arrivare ma non avesse più pagine per farlo come si deve. Questo neo non inficia il valore del libro ma va riportato per precisione.
Proprio come nel suo primo romanzo, Andy Weir si dimostra bravissimo a inventare personaggi con una grande dose di ironia. Jazz è intelligente, astuta, spassosa e sboccata. Rappresenta perfettamente lo spirito libero di una ragazza vissuta sulla Luna da quando aveva 6 anni. Molto spesso mi sono ritrovato a sghignazzare davanti ad una sua frase. Il libro è scritto in prima persona quindi ci sono molte sue frasi divertenti. Eccone alcune:
If my neighborhood were wine, connoisseurs would describe it as "shitty, with overtones of failure and poor life decisions."
Okay, I won't lie. Rudy DuBois is a seriously good-looking man. He's two meters tall and blond as a Hitler wet dream. He quit the Royal Canadian Mounted Police ten years ago to become Artemis's head of security, but he still wears the uniform every day. And it looks good on him. Really good. I don't like the guy, but… you know… if I could do it with no consequences…
But by the end of it I had a plan. And like all good plans, it required a crazy Ukrainian guy.
I pulled up next to the workshop of Dad's colleague Zsóka Stróbl, who was apparently named during a severe vowel famine.
I'd have to blow the remaining two at the same time. Please don't quote that last sentence out of context.
"On a scale from one to 'invade Russia in winter,' how stupid is this plan?"
I left without further comment. I didn't want to spend any more time inside the mind of an economist. It was dark and disturbing.
Sulla Luna ci sono anche (sorpresaaaaaa!!!) persone omosessuali e ne incontriamo alcune. Proprio da uno di questi personaggi arrivano delle battute sia divertenti che commoventi:
"Gay as Oscar Wilde wearing sequins walking a pink poodle with a tiara on his head." "The poodle has a tiara?" "No, I meant Oscar Wilde—"
"Barkeep! Some little girl thinks she can outdrink me. We'll need six pints—three for the gay and three for the goy."
Goy: modo informale per chiamare una persona non ebrea.
Dale raised his glass. "Mr. Bashara." Dad gave him a cold stare. "Dale." "I forget," said Dale, "do you hate me because I'm gay or because I'm Jewish?" "I hate you because you broke my daughter's heart." "Fair." Dale polished off his beer.
I diritti del film sono già stati venduti, sono molto curioso di vedere cosa ne uscirà! Nel frattempo: buona lettura!