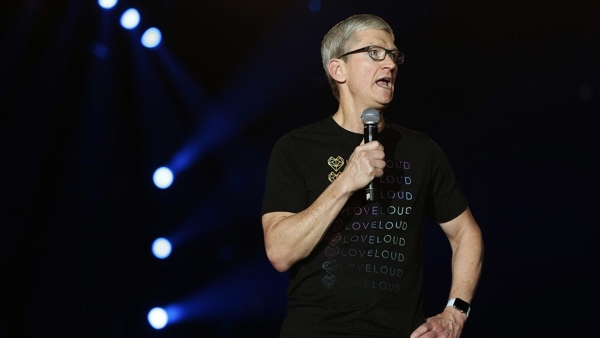 A fine Luglio Tim Cook, CEO di Apple, ha partecipato al festival Loveloud nello Utah. Il festival è dedicato a "ignite the vital conversation about what it means to unconditionally love, understand, accept, and support LGBTQ+ youth in our communities" e Tim Cook è certamente una figura di spicco in questo senso.
Sin dal suo coming out nel 2014, Tim Cook ha continuato a lottare per i diritti di tutti con il suo stile garbato ma deciso. In questa occasione non solo ha ribadito la sua posizione ma lo ha fatto con una grinta che non sempre mostra.
Non dev'essere facile nella sua posizione e nell'attuale atmosfera sociale americana mantenere la calma. Eppure lui ci riesce sempre fino quasi a sembrare un automa. In questo breve intervento ho avuto l'impressione che abbia voluto trasformare il senso di impotenza non in rabbia ma in parole di aiuto. Non c'é bisogno di ulteriore violenza, c'é bisogno di supporto per le persone che si sentono ai margini.
Ecco alcune delle sue parole:
I stand before you tonight as an uncle, a sports nut, a CEO, a lover of the beautiful Utah outdoors, and a proud, gay American. I come to deliver a simple message that I want every LGBT person to hear and to believe. You are a gift to the world.

A unique and special gift, just the way you are. Your life matters… My heart breaks when I see kids struggling to conform to a society or a family that doesn't accept them. Struggling to be what someone else thinks is normal. Find your truth, speak your truth, live your truth.

Let me tell you, 'Normal' just might be the worst word ever created. We are not all supposed to be the same, feel the same, or think the same. And there is nothing wrong with you.

I know that life can be dark and heavy, and sometimes might seem unreasonable and unbearable, but just as night turns to day, know that darkness is always followed by light. You will feel more comfortable in our own skin, attitudes will change. Life will get better and you will thrive.
Ed ecco il resto del suo intervento:
E' straordinario quando possa essere potente la semplicità. Il suo intervento acquisisce ancora più rilevanza perché solitamente limita le sue uscite publiche solo a questione lavorative essendo attentissimo alla propria privacy.
Un grandissimo esempio di classe, come sempre.