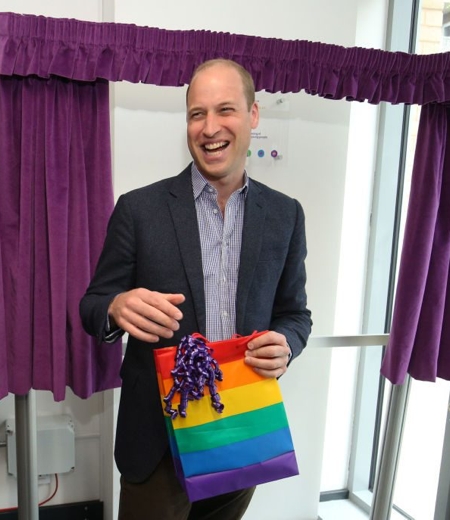 Qualche giorno fa è uscita la notizia della visita del Principe William ad un'associazione lgbt londinese.
Durante una breve intervista ha parlato di come reagirebbe se uno dei suoi figli facesse coming out.
Prince William has spoken out to say he'd fully support his child if they were LGBT, stating he'd be "absolutely fine" with it.

William said his only concern would be the "hate or persecution" George, Charlotte or Louis may face by being a member of the Royal Family.

He added: "I support whatever decision they make, but it does worry me from a parent's point of view how many barriers, hateful words, persecution and discrimination that might come. That's the bit that troubles me a little bit.

"That's for all of us to try and help correct, to put that in the past and not come back to that sort of stuff."
Anche il fratello Harry ha fatto dichiarazioni da vero alleato ma colpisce moltissimo sentire queste parole dal futuro Re d'Inghilterra.
Non solo questo, se George dovesse essere gay potrebbe diventare il primo re dichiaramene lgbt della storia. La domanda è se anche in questo caso l'establishment reale si mostrerebbe compatto nel supportare il principe.
La questione non è per nulla banale perché la discendenza è fondamentale per una famiglia reale. Accetterebbero una gestazione per altri? Accetterebbero un principe consorte? Non dimentichiamo poi che il Re d'Inghilterra è capo della chiesa anglicana che ad oggi non accetta il matrimonio religioso tra persone dello stesso sesso.
Fantasticherie a parte fa quasi impressione vedere una figura così di spicco dell'aristocrazia visitare un'associazione lgbt e rispondere candidamente ad una domanda che ha tantissimi risvolti personali.
Anche il mondo reale sta cambiando ma in fondo non dobbiamo stupirci se pensiamo alla straordinaria modernità della compianta madre di William e Harry.